---
It's possible to connect a remote GPS to your fieldwork tablet. This article describes how to connect your GPS and use it in the Terraindex application.
Ensure that you know on which COM-port the GPS operates. You can find this in the settings of the GPS or the configuration software of the GPS. If you cannot find this, ask the supplier of the GPS to help you find this setting.
Ensure that the GPS is turned on and connected to the tablet.
Start the application GPStoHTTP. Fill in the correct COM port of your gps.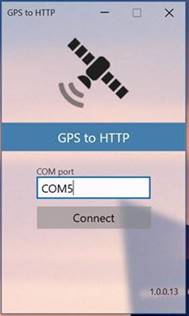 When you click on 'connect', the following message should appear:
Connected. The contents of COM5 are available on http://localhost:5002/
Connecting...
The GPS connection is now ready for use. If you want to use the GPS again with TerraIndex, you have to start this application again and press 'connect'.
If you get an error message during the connection process, it is likely that you don't have the sufficient rights to run the application. In that case the following CMD prompt can make an exception for this application.
Click on windows start
Type 'cmd' in the searchbar
Right click on: Command
Click on 'Run as administrator'
Click on yes when asked the question if you want to run this as an administrator.
Copy and paste this line into the command prompt:
CheckNetIsolation.exe LoopbackExempt -a -n=47832I.T.WorksBV.TerraIndex_yr8w8fgjjm7ja
if 'OK.' is returned the settings are correct and the application is ready for use.